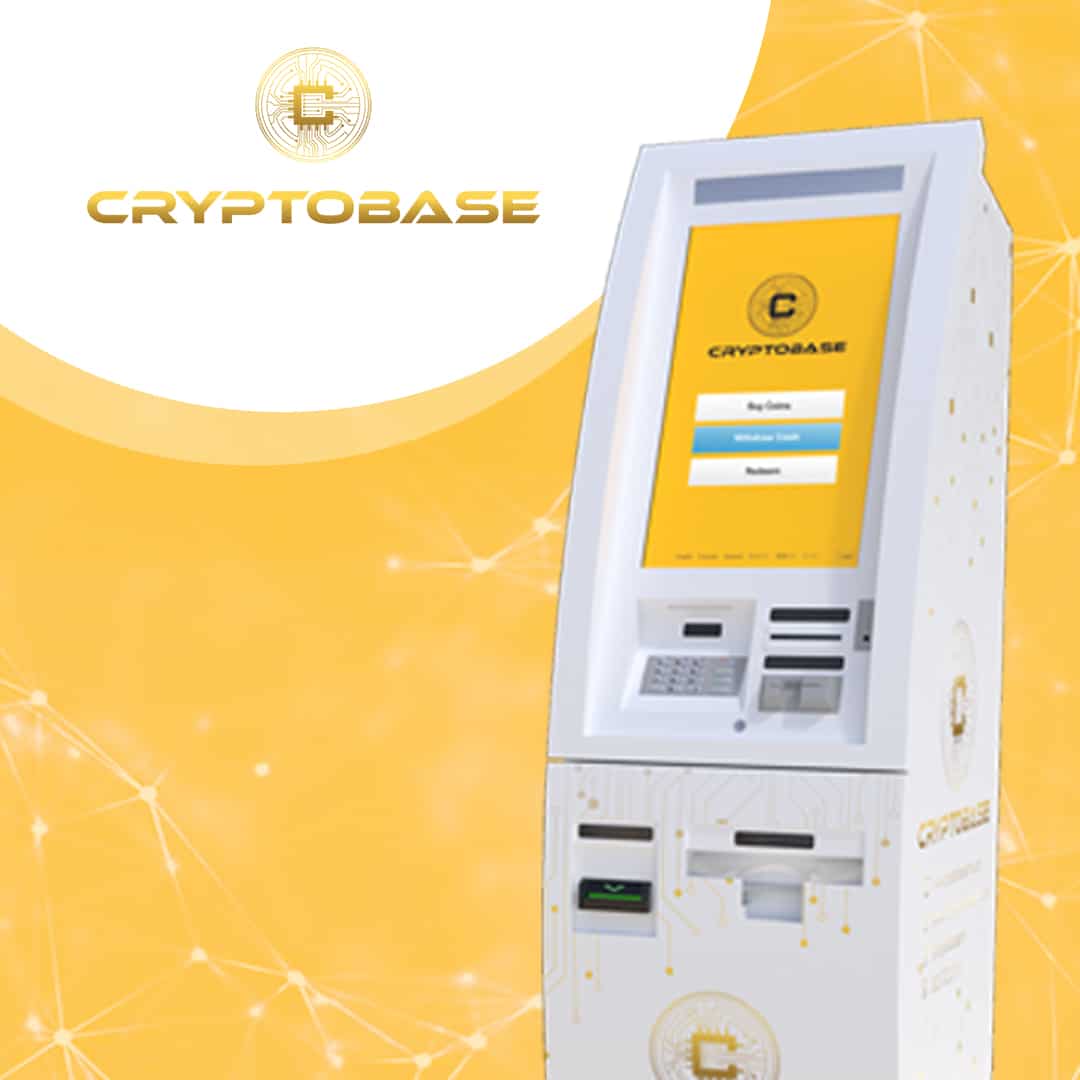 Cryptobase ATM Brings the Blockchain to Your Block
Cryptobase is a maker of popular Bitcoin ATMs. Bitcoin ATMs, sometimes called BTMs, offer a fast and reliable way for consumers to buy and sell Bitcoin and other cryptocurrencies. They also help business owners "cash in" on the exploding popularity of Bitcoin. 
What's a Bitcoin ATM?
When most of us think of ATMs we think of either feeding in cash or checks, or getting cash back from the machine. Since you can't put a Bitcoin in your pocket, you could be forgiven for cocking your head when you first hear the words "Bitcoin ATM." The first question is usually, "How does that work?" Once it's explained, the next question is often, "Where can I find Bitcoin ATMs near me?"
The difference between a traditional ATM and a crypto ATM is that rather than depositing and withdrawing money from a bank account, Cryptobase ATMs let users buy or sell cryptocurrency for cash. 
Bitcoin and other cryptocurrencies are normally bought and sold via a custodian/broker such as Robinhood or PayPal or via an online crypto exchange such as Coinbase, Binance, FTX, or Gemini. 
In addition to Bitcoin (BTC), Cryptobase ATMs support buying and selling of Bitcoin Cash (BCH), and Litecoin (LTC). (Note that some Cryptobase ATMs offer only buying or selling crypto. Others support both buying and selling.)
However, not everyone wants to trust their crypto to these companies. 
How Many Crypto ATMs Are There?
Consumer interest in crypto is growing exponentially, and along with it so too is the number of crypto ATMs. According to 99bitcoins.com, the world's first crypto ATM was put into service on Oct. 29, 2013, at a coffee shop in Vancouver, Canada. And according to Cointelegraph, the first Bitcoin ATM in the U.S. was installed in Albuquerque, New Mexico, on Feb. 18, 2014. 
According to data provided by coinatmradar.com, as of early 2022, nearly 36,000 crypto ATMs were in operation. Five years ago there were fewer than 1,000 Bitcoin machine locations. In 2020 alone, the number of crypto ATMs in the U.S. grew by 177%. Today, more than 75% of crypto ATMs are located in the U.S.A. and Canada. 
How Do Crypto ATMs Work?
Rather than connecting to a bank account, crypto ATMs connect to a mobile crypto wallet. The machine is connected to the internet to be able to calculate exchange rates and make transactions in real time. 
To use a Cryptobase ATM, you'll need a smartphone or other connected mobile device and a mobile wallet app such as Cryptobase Wallet. Cryptobase Bitcoin machine locations can be found here. 
How To Use a Crypto ATM 
Before you use the ATM, you should run through your wallet's process for displaying the QR code that will be used to request the cryptocurrency you wish to buy. Get familiar with the process beforehand.
Once you have the wallet set up and you know how to get the QR code, you're ready to find a nearby crypto ATM and buy and sell crypto. 
How To Use a Crypto ATM Step-By-Step
To get started using a crypto ATM, just click on "Buy Coins" and enter your mobile phone number. 
You should immediately receive a text message that includes a verification code. Enter the code to proceed. 
Next set a four-digit passcode that you'll use each time you use a Cryptobase ATM. 
Follow the instructions to buy or sell Bitcoin or any of the other cryptocurrencies mentioned above and choose a delivery method. 
If you're buying crypto, you'll need to insert cash. The ATM will display the amount as each bill is added. You can choose to either scan a QR code to request the crypto or enter your wallet address manually. 
Note that you can also choose to create a paper wallet rather than using a mobile wallet. If you choose the paper wallet, be sure not to lose it or let it be seen by people or cameras. 
You can also use Cryptobase ATMs to buy crypto without a wallet. To do so, you'll need to scan a driver's license. (For all transactions over $1,000, ID is required.) You'll be given a paper wallet as a receipt. 
The transaction should post almost immediately. However, for Bitcoin purchases, the funds could take anywhere from 10 minutes to an hour to show up in your crypto wallet. 
If you're selling crypto, for small transactions, the cash is immediately dispensed. For large transactions, confirmation can take up to 10 minutes or more. When your cash is ready for pickup, you'll receive a text message with a redemption code. When you receive the code, return to the ATM and choose "Redeem." Enter the redemption code and collect your money. 
Note that any transaction fees will be included in the total transaction amount. When selling crypto be sure to send the exact amount shown on the screen, which includes fees.
How Do I Find Bitcoin ATMs Near Me?
With nearly 36,000 locations and counting, and plenty of online resources on the topic, it's becoming easier and easier to find a crypto ATM near you. 
There are currently more than 150 Cryptobase ATMs across the U.S. They are located in the following states: 
— Arizona
— Arkansas
— Florida
— Georgia
— Illinois
— Missouri
— Oklahoma
— Texas
— Virginia
You can use this handy map to find more Bitcoin machine locations.