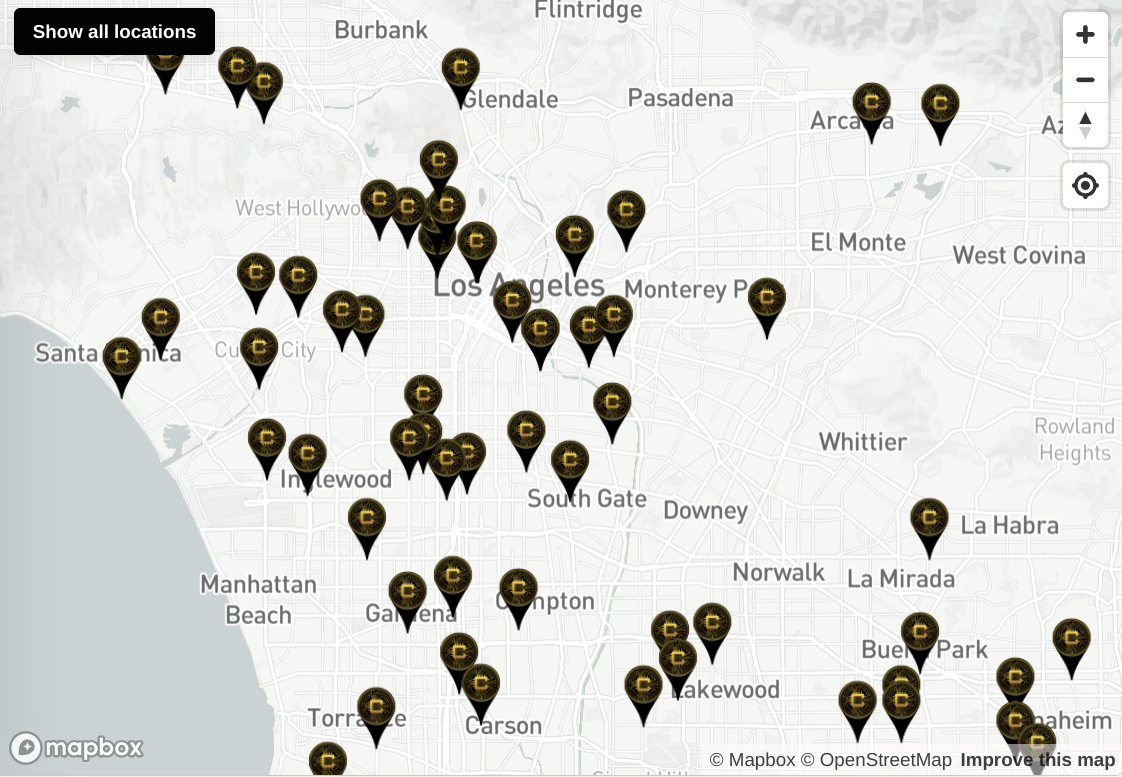 How to Buy Bitcoin with Cash in Los Angeles
Are you looking to buy Bitcoin with cash in Los Angeles? Good news! Cryptobase ATM offers a convenient way to purchase Bitcoin using physical currency. In this guide, we'll walk you through the process step by step.
Advantages of Buying Bitcoin with Cash
Buying Bitcoin with cash offers several key advantages that make it an appealing option:
Privacy and Anonymity: Purchasing Bitcoin with cash provides enhanced privacy, allowing you to avoid sharing personal information associated with your bank account or credit card.
No Bank Account Required: Buying Bitcoin with cash eliminates the need for a bank account, making it accessible to individuals without traditional banking services.
Convenience and Accessibility: Cryptobase ATMs in public spaces make it easy to quickly convert physical currency into digital assets.
Simplicity and Speed: The process of buying Bitcoin with cash at a Bitcoin ATM is user-friendly and straightforward, even for beginners.
Immediate Ownership: Buying Bitcoin with cash grants instant ownership and control over your digital assets.
By considering these advantages, you can see why buying Bitcoin with cash through Crypto ATMs offers privacy, convenience, accessibility, simplicity, and immediate ownership.
Steps to Buying Bitcoin with Cash In LA
Step 1: Find a Crypto ATM in Los Angeles
The first step is to locate a nearby crypto ATM in Los Angeles. You can use this Bitcoin ATM Locator for up-to-date information on Cryptobase ATM locations throughout the U.S. Cryptobase ATM lists around one hundred Bitcoin ATMs in Los Angeles, and here are five popular places to buy Bitcoin for cash in LA:
Mobil – 6301 Santa Monica Boulevard, Los Angeles, California 90038
World Oil – 1935 East Florence Avenue, Los Angeles, California 90001
Mobil – 657 North Vermont Avenue, Los Angeles, California 90004
Stop 7 Market – 600 East 7th Street, Los Angeles, California 90021
ARCO – 4860 Huntington Drive North, Los Angeles, California 90032
Step 2: Prepare Your Cash
Before heading to the crypto ATM, make sure you have enough cash on hand for your desired Bitcoin purchase amount. Keep in mind that some ATMs may have minimum and maximum transaction limits.
Step 3: Bring Your Mobile Wallet
To receive the purchased Bitcoin, you'll need a digital wallet installed on your smartphone. There are several mobile wallet options available. We recommend the Cryptobase Wallet. Choose a wallet that is compatible with the crypto ATM you plan to use.
Step 4: Visit the Bitcoin ATM
Once you've found a suitable crypto ATM and have your cash and mobile wallet ready, it's time to visit the ATM location. Follow the on-screen instructions at the ATM carefully.
Step 5: Insert Cash and Provide Wallet Address
Insert your cash into the ATM's bill acceptor. The machine will calculate the Bitcoin equivalent based on the current exchange rate. Next, you'll need to provide your digital wallet address for receiving the purchased Bitcoin. Double-check the wallet address before confirming the transaction.
Step 6: Confirm and Complete Purchase
Review all transaction details displayed on the screen, including fees and exchange rates. If everything looks accurate, confirm your purchase. The Bitcoin ATM will process your request, and once confirmed, you'll receive a receipt with details of the transaction.
Congratulations! You've successfully bought Bitcoin with cash from a crypto ATM in Los Angeles.
Wrapping Up
Crypto ATMs have made buying Bitcoin with cash more accessible than ever. With clear instructions and easy-to-use interfaces, these ATMs allow individuals to enter the world of cryptocurrency without complicated online exchanges. Remember to choose reputable ATMs in Los Angeles and follow necessary security precautions when handling digital assets.
FAQs: Buying Bitcoin with Cash in LA
Can I buy Bitcoin with any cash amount at a Bitcoin ATM?
All cash denominations ($1, $2, $5, $10, $20, $50, $100) are accepted by most machines. However, certain ATMs might have minimum or maximum limits per transaction.
Are there additional fees when buying Bitcoin with cash from a Bitcoin ATM?
Fees apply when purchasing Bitcoin at a Bitcoin ATM, but using cash does not usually increase your cost. Fees vary among different ATMs and providers; therefore, it's essential to review the fee structure before proceeding with the transaction.
Can I sell my Bitcoin for cash at a crypto ATM?
While some crypto ATMs offer selling options, not all machines support this feature. Check with specific ATMs for their capabilities before attempting to sell your Bitcoin for cash.
Can I sell my Bitcoin for cash at a Los Angeles Bitcoin ATM?
Certainly! Many Cryptobase ATMs in Los Angeles provide the option to sell your Bitcoin for cash as well. Check if your chosen ATM offers this feature before initiating any transactions.
Are Los Angeles' Bitcoin ATMs available 24/7
Many of the Bitcoin ATMs in Los Angeles operate 24/7 for your convenience. However, it is advisable to verify the operating hours of the specific ATM you plan on visiting.
Are my transactions at a Bitcoin ATM anonymous?
While using a Bitcoin ATM adds a certain degree of privacy to your transactions, it's important to note that some ATMs require personal identification due to regulatory compliance. Nevertheless, your personal information is not publicly linked to the Bitcoin transaction on the blockchain.