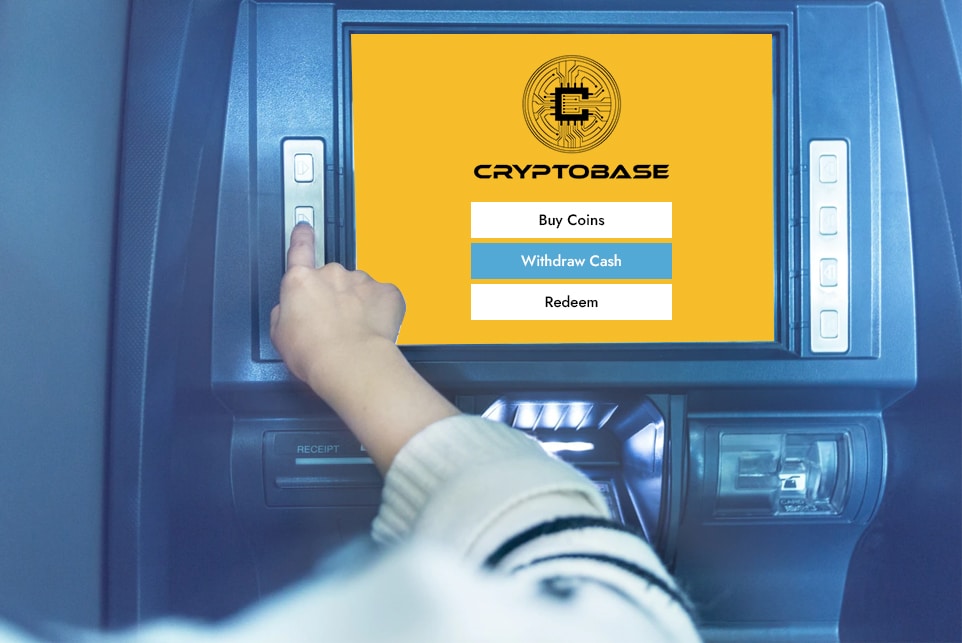 What Is a Cryptocurrency ATM And How Does It Work?
Cryptocurrencies have taken the world by storm, revolutionizing the way we think about traditional finance. They've not only changed the way we transact, but also how we store and access our digital assets. One of the most intriguing developments in the world of cryptocurrencies is Cryptocurrency ATMs, and Cryptobase ATM is at the forefront of this exciting innovation.
What is a Cryptocurrency ATM?
Cryptocurrency ATMs are physical machines that resemble traditional ATMs. However, instead of dispensing physical currency, they enable users to conduct cryptocurrency transactions. Users can use cash to buy cryptocurrencies like Bitcoin, Litecoin, and more at these ATMs, or they can sell their existing cryptocurrencies for cash.
Cryptobase ATM is a prominent player in this arena, setting the standard for user-friendly experiences and accessibility.
Types of Cryptocurrency ATMs
One-Way (Buy-Only) ATMs: You can buy cryptocurrencies but can't sell them.
Two-Way ATMs: Buy or sell your cryptocurrencies.
How Are They Different from Regular ATMs?
A regular ATM connects you to your bank account, while a cryptocurrency ATM connects you to a blockchain. A blockchain is a public ledger that records cryptocurrency transactions. Think of it as the foundation that keeps the whole operation running smoothly.
A Cryptocurrency ATM is your gateway to the world of digital assets. Cryptobase ATM is a prominent player in this arena, setting the standard for user-friendly experiences and accessibility.
Locating a Cryptocurrency ATM
Cryptobase ATM has an extensive network of ATMs conveniently located in various cities and regions. Their user-friendly crypto ATM locator and mobile app provide real-time information on the nearest ATM, making it easy for users to find a nearby location.
How Cryptocurrency ATMs Work with Cryptobase ATM
Now, let's demystify using a Cryptocurrency ATM, specifically with Cryptobase ATM. Here's a step-by-step guide to ensure you make the most of your cryptocurrency transaction:
1. Start the Process:
To begin, simply approach the Cryptobase ATM and push the "Buy select the coin you would like to buy" button on the screen. This step sets the stage for your cryptocurrency journey.
2. User Verification:
The ATM will prompt you to make a choice—whether you want to enter your phone number or scan a government-issued ID, such as a driver's license. This verification step ensures compliance with regulatory standards.
If you opt for your phone number, expect to receive a text message with a code. Enter this code into the machine when prompted.
If you choose to scan your ID, ensure you have it handy. This step adds an extra layer of security and compliance to the process.
3. Preparing Your Wallet:
Before heading to the Cryptobase ATM, make sure you have a cryptocurrency wallet app installed on your phone. Cryptobase Wallet is a recommended choice.
Open your digital wallet app. Depending on the wallet you've chosen, you may need to select "receive coin selected earlier" or a similar option to prompt the app to display a QR code on your phone.
For Edge Wallet users, select the cryptocurrency you are purchasing in the app and then choose "Request" to display your receiving QR code.
4. Scanning Your Wallet:
The Cryptobase ATM will prompt you to scan your wallet's QR code. Position your phone under the ATM scanner and follow the on-screen instructions. This step ensures that the cryptocurrency you purchase is sent directly to your wallet.
5. Making the Payment:
To complete the transaction, insert cash into the ATM's cash acceptor. Look for the green blink to confirm that the machine recognizes your cash.
6. Finalize Your Transaction:
Once you've successfully verified your identity, selected your cryptocurrency, and inserted cash, it's time to hit the "Finalize transaction" button. This step will start the transfer, and the purchased cryptocurrency will be sent immediately to your phone.
In a matter of minutes, you'll have completed a secure and hassle-free cryptocurrency transaction with Cryptobase ATM. Whether you're buying Bitcoin or any other supported cryptocurrency, this user-friendly process ensures that your digital assets are safely in your hands.
It's important to note that different Cryptocurrency ATMs may have slight variations in their processes, but the general steps outlined above provide a clear overview of how they work.
Cryptocurrency ATMs offer a convenient way for individuals to enter the world of digital currencies or convert their cryptocurrencies into traditional cash. With their user-friendly interfaces and accessibility, these machines are becoming increasingly popular in the cryptocurrency community.
Next time you need a convenient and trustworthy way to buy cryptocurrency, remember Cryptobase ATM's seamless experience.
Why Choose Cryptobase ATM?
Cryptobase ATM stands out for several reasons:
Extensive Network: Cryptobase ATM boasts an ever-expanding network of ATMs, making cryptocurrency transactions accessible to users across the United States.
User-Friendly Experience: The intuitive interface of Cryptobase ATM's kiosks and mobile app caters to both beginners and experienced users, ensuring a hassle-free experience.
Security: Cryptobase ATM prioritizes security, adhering to all regulatory requirements to guarantee safe and secure transactions.
Diverse Cryptocurrency Support: Users can buy and sell a wide variety of cryptocurrencies, making it a one-stop solution for their digital asset needs.
Customer Support: Cryptobase ATM provides excellent customer support, promptly addressing any queries or issues.
Wrapping Up: What is a Cryptocurrency ATM?
In conclusion, Cryptocurrency ATMs, exemplified by Cryptobase ATM, have transformed the way we interact with digital assets. They bridge the gap between the virtual and physical worlds, offering a secure, user-friendly, and accessible means of buying and selling cryptocurrencies. Next time you're considering a cryptocurrency transaction, consider the convenience and security of Cryptobase ATM.
Frequently Asked Questions About Cryptocurrency ATMs
1. Are Cryptocurrency ATMs like Cryptobase ATM safe to use?
Absolutely. Cryptobase ATM takes security seriously, complying with all regulatory requirements to ensure the safety of your transactions. Your digital assets are in good hands.
2. What cryptocurrencies can I buy or sell using Cryptobase ATM?
Cryptobase ATM supports a wide range of cryptocurrencies, including Bitcoin and many others. Check the machine for the specific options available at your nearest location.
3. Is it necessary to have a cryptocurrency wallet before using Cryptobase ATM?
Yes, it is. To complete your transaction, you'll need a cryptocurrency wallet app installed on your smartphone. Cryptobase Wallet is recommended for a seamless experience.
4. How long does a typical transaction at a Cryptobase ATM take?
Cryptobase ATM transactions are quick and efficient. From the initiation of your transaction to the completion, it usually takes just a few minutes.
5. Are there any transaction limits when using Cryptobase ATM?
Transaction limits may vary depending on the specific Cryptobase ATM location. Check the machine for information on transaction limits, as they can differ between machines.
These FAQs should help address some of the common questions you might have about using Cryptobase ATM for your cryptocurrency transactions. If you have more specific inquiries, check out our full FAQ page, and don't hesitate to reach out to our excellent customer support team for further assistance.